Your annual benefits on hold statement will be available in your My Pension account before the end of May. If you have registered for My Pension you will receive an email from us letting you know it is there. If you have elected for paper communications, you will also receive your statement through the post.
If you have not yet registered for your My Pension account then you can do on the My Pension homepage. For more information on registering please visit our My Pension support page.
Your annual benefits statement contains:
the original and current value of your pension
information on your retirement date
important choices to make at retirement
details of your lump sum life cover.
In June we will be holding some online educational presentations. These 40 minute presentations will explain your pension options after leaving Greater Manchester Pension Fund (GMPF) including when you can access your pension, the considerations if you want to transfer your benefits to another pension scheme and what life cover you have while you have benefits on hold. Visit our events page for more information.
We would love to hear what you think about your annual benefit statement, so we know what you like and what we can improve on. If you have a few minutes, we would be grateful if you could complete our survey.
How do I view my annual benefit statement online?
You need to login in to your My Pension account. You can do this through the link in the member menu on the website. If you have any problems logging in or registering please visit our My Pension support page or contact us.
Once you have logged in, you need to go to the My Documents tile and select Annual Benefit Statements. You will then be able to see your statement for 2022 as well as those issued in previous years.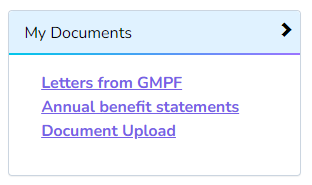 Can I access my benefits early?
You can access your benefits anytime from age 55. If you choose to access your benefits before your normal pension age (which is shown in your statement) then early retirement reductions will apply as we will be paying your pension for longer than expected.
You can read more about when and how you can access your benefits on hold on our website as well as the early retirement factors that would apply.
Can I access part of my pension?
No. When accessing your benefits you must take all your benefits at once.
How does freedom and choice in pensions apply to my LGPS pension?
The Freedom and Choice changes to pensions were not designed to impact on schemes like GMPF. These changes are aimed at giving people with personal pensions more choice in how they access them.
For more information on Freedom and Choice and transferring your pension please visit our page what are your options when opting out, leaving or transferring.
Can I request an estimate or formal offer of my benefits?
You can use the Pension calculator in My Pension to calculate your benefits using different dates of retirement and conversion options. These figures are for illustrative purposes only, but if you are thinking of retiring soon then you can also request an offer of your benefits either through your My Pension account or by contacting us. We strongly suggest you do this at least four months before your intended retirement date to allow enough time for all the tasks to be completed.
For more information on when and how you can access your benefits on hold please visit the page on our website.
Will you also send me a paper copy?
We won't send you a paper copy unless you have already asked us to do so. If you want to receive future communications by post, then you must write to us at the address below to let us know:
Guardsman Tony Downes House
5 Manchester Road
Droylsden
M43 6SF
If you need a paper copy of your most recent annual statement, please ask us for one when you write to us.
If you need a one off paper copy of this year's annual benefits statement please contact us and we will post you a paper statement.
If your needs change and you think you would benefit from receiving communications from us in a different format, for example large print, braille, audio, or on different coloured paper, please either call our Customer Service team on 0161 301 7000 or send a message through our website and we can update your record.