If you need help setting up your My Pension account, or assistance logging in, please read through our guidance. If you need further assistance, please contact our Customer Service team either via our online form or by calling 0161 301 7000.
How to register for My Pension
Setting up your account is done using our secure three step process. We recommend following this using a computer and using either Google Chrome or the latest version of Microsoft Edge as your internet browser.
Step 1 – Register
Completing your basic details here automatically generates an 'Activation' link which, if we already hold a valid email address for you, is sent by email (please check your spam/junk folder in case it is in there). If we can't match your email address to the one we have on record, then the 'Activation' code will be sent by letter to your home address, please allow seven days for it to arrive.
If the screen shows a 'validation error' then it's because our system can't match the details you have entered. Please contact us if this happens.
Step 2 – Complete registration
If you have received your 'Activation' link by email, then simply click the link in the email which should direct you automatically to step 2. If you received your 'Activation' code by letter, then please go to the My Pension homepage and click on the 'Complete your registration' step and enter the activation code from the letter.
If your details and activation code are entered correctly, you will see the registration screen. You will then be asked to enter a current email address and set up your password and security questions.
Step 3 – Login
Once the first two steps have been followed, you can login to My Pension using your email address and password. You will then be asked to answer one of your security questions.
We have produced a flowchart to help you understand the process.
Completing forms and uploading documents
Letters from GMPF
You will be notified when documents from GMPF have been added to your account. You may be asked to complete and upload a form, and/or send us documents. Any letters from us can be found in 'Letters from GMPF' in the My Documents tile on your My Pension homepage.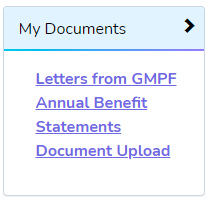 Please read through any letters before uploading forms or documents.
Forms
Your letter will tell you which form you need to complete. There may be a link in the letter directly to the form, or you can find all forms by going to the Publications and forms tile on your My Pension homepage.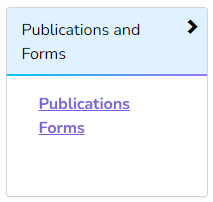 When completing your form, please save it first and then open it in a pdf reader to complete it.
Uploading documents
Once you have completed and saved your form you can upload it through My Pension. You may also be asked to upload copies of certificates.
In your My Pension account select the 'Document upload' link in the My Documents tile.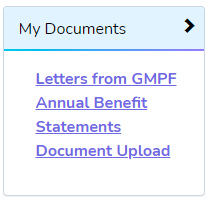 Select 'Browse' to locate your saved form and select the form.
For the Category drop down menu please select the document type from the list. If you are unsure of the type of document you are uploading please check the name of the form.
If you are retiring you should not select a type of document from the Category dropdown. Instead you will have the option to select a Case Number.
You can check your case number by using the link to Your Requests.
Once you have selected the document for upload and either the category or case number you can click upload.
A message will then appear in a green banner to confirm your document has been submitted.
If you have more than one record you need to ensure you are uploading your documents to the correct record. It maybe that you have been asked to complete forms for more than one of your records. You can move between records by using the arrow in the top corner next to your status.
I think my account is locked; I keep getting a 'validation' error
If you enter an incorrect email address or password more than three times a 'validation error' will show on screen. Please check you have entered the correct email address. If you attempted to login using the wrong password, you will need to reset your password. See the 'I've forgotten my password' section. Resetting your password will also unlock your account.
I've forgotten my password
You can reset your password by clicking on the 'Forgotten your password' link and then entering the email address you registered with. A new link will then be sent via email, please click this link to reset your password.
I've forgotten my security questions
If you have forgotten your security questions, then you can click on the 'Forgotten your response' link on the login screen which appears after entering your username and password. After entering the required details, you will then be sent an email containing a link. This link will take you to a page where you can enter new security questions.
I've changed my email address; can I still log in?
You can continue to use your email address as your username for My Pension, but we encourage you to change your email to your new one by visiting the 'Change my contact details' section under 'My details'. Changing this will also change your username for My Pension. This ensures that you will continue to receive any emails from us regarding your My Pension account. We recommend that if you signed up with a work email address, you change it to a personal email address.